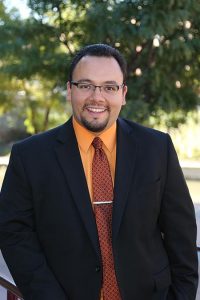 Steven L. Trujillo, MBA
President and Chief Executive Officer
ceo@pueblolatinochamber.com
Steven is a proud native of Pueblo, Colorado. Early on in his childhood, Steven's parents instilled the importance of education in him and reminded him that what he worked towards and accomplished was something that no one could ever take. In 2007, Steven graduated from the early college program of Dolores Huerta Preparatory High School, where he also earned his Associate of Applied Science Degree in general studies from Pueblo Community College. After graduation from DHPH and PCC, Steven continued to earn both his Bachelor of Science Degree in Business Administration with a minor in Leadership Studies, and his master's degree in Business Administration. Both degrees were earned from Colorado State University-Pueblo.
While in school, Steven believed that it was important to get involved in the community and learn all that he could. It was through that involvement that Steven found the opportunity to join the Latino Chamber of Commerce. He started in 2010 as the membership Coordinator where he worked on building the programs of the Chamber that could impact the Pueblo business community. In 2015, Steven was promoted to President and Chief Executive Officer, a role that he holds to today. As CEO, he is responsible for the organization's day-to-day operations, public relations and community representation.
Aside from his role with the Latino Chamber, Steven also serves as a faculty member for the Presidents Leadership Program at CSU-Pueblo. He currently serves as the Board President for Chavez-Huerta K-12 Preparatory Academy, is a member of the Advisory Board for the state Minority Business Office under OEDIT and was recently appointed by Governor Jared Polis as a Commissioner for the Department of Higher Education. Additionally, he serves as an Ex-Officio to the Pueblo Economic Development Corporation and to the Sangre de Cristo Arts Center Boards of Directors.
Recently, Steven was recognized by Colorado State University-Pueblo as one of their "2019 Distinguished Young Alumni" Under his leadership, the Latino Chamber continues to grow and advance, while staying focused on the small business community of southern Colorado.
In his free time, Steven enjoys volunteering with his church, listening to a variety of music, or simply spending quality time with his family and loved ones out on the patio.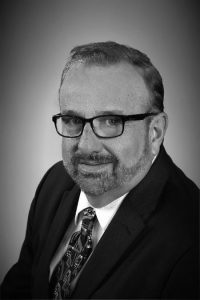 Dennis Lowry
Special Events Coordinator
specialevents@pueblolatinochamber.com
Dennis is a proud product of a working-class family and grandparents who immigrated through Ellis Island to the Pittsburg area. Dennis was born in Chicago and moved to Rye, Colorado where he attended Rye High School and the University of Southern Colorado where he studied Business/Marketing.
Dennis joined the Latino Chamber team in 2014 as Special Events Coordinator. In his position, Dennis is responsible for providing leadership in the planning, organizing and implementation of all Latino Chamber fundraising events as well as monthly membership events. Additionally, he serves as the conduit in which all event planning communications are handled.
Dennis has been an active member of the Non-Profit community and has worked as a Fundraiser and Events Coordinator for the past 15 years. Prior to his work in non-profit, Dennis spent over 25 years in Retail and Manufacturing Management positions. Dennis enjoys volunteering for many local Arts and Cultural community events. He has a passion for local history and historic preservation.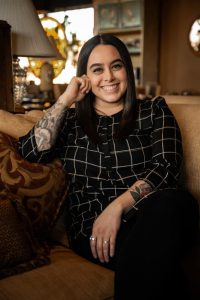 Dynelle Abeyta
Membership Coordinator
dynelle@pueblolatinochamber.com
Dynelle was born and raised in Pueblo, Colorado. She is a proud graduate of East High School and Colorado State University-Pueblo where she earned her Bachelor of Arts Degree in Mass Communications with an emphasis in Integrated Communications and a Minor in Nonprofit Administration.
Dynelle joined the Latino Chamber in December of 2020. In her position, she is responsible for providing leadership in the planning, organizing and implementation of all things membership. She also is responsible of running the ambassador program as well as managing all communication platforms.
In addition to her work at the chamber, Dynelle also serves as a Marketing Team Lead for the Pueblo Business Economic Recovery Team, an Advisory Committee Member for PuebloShares, a Team Member for Supporting Pueblo, a Committee Member for the Buy Local Campaign, a Member of the Southern Colorado Press Club, and a past Marketing Committee Member for the 2020 Census.
Dynelle has also received the 40 Under 40 Emerging Leader Award from the Latino Chamber in 2019, as well as recognition for being a starting member of the Supporting Pueblo initiative.
In her spare time, Dynelle is an artist and loves participating in and attending art shows and all things creative in the community. She enjoys music and goes to as many shows as she can fit into her calendar. She also loves exploring the outdoors and spending time with her family.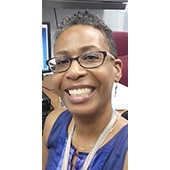 Sonja Reynolds
Individual